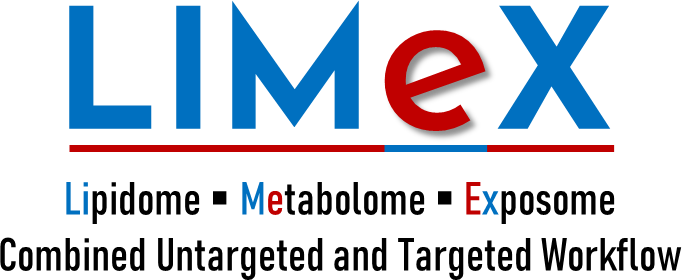 Bi-phase extraction method using methanol, methyl-terc butyl ether (MTBE), and water provides two phases: one containing polar metabolites (aka "metabolomics") and different exposome compounds such as drugs (aka "exposomics"), and the other with complex lipids (aka "lipidomics"). During untargeted analyses, all detectable compounds are acquired using validated LC–MS methods.
Since no single LC–MS method can cover the full metabolome/lipidome/exposome, we use different chromatography modes (reversed-phase liquid chromatography, RPLC and hydrophilic interaction chromatography, HILIC) and electrospray ionization modes to comprehensively characterize these isolated fractions.
A high-resolution mass spectrometer Thermo Q Exactive Plus coupled with a liquid chromatograph (Thermo Vanquish) is routinely used for LIMeX workflow. The mass spectrometer collects full scan MS1 data as well as data-dependent MS/MS spectra for all samples. While MS1 data is used for quantification, MS/MS spectra are used for compound annotation using MS/MS library search or for compound confirmation. The acquired data sets are processed using MS-DIAL 4 software, including annotation of complex lipids, polar metabolites, and other detected compounds using in-house, open-source as well as commercial MS/MS spectral libraries (NIST20, MassBank, MoNA).

LIMeX workflow for untargeted and targeted analysis of complex lipids, polar metabolites, and exposome compounds.
For human cohort studies, we usually report over 500 complex lipids, 100 polar metabolites, and tens of exposome compounds (mainly food components and drugs) using LIMeX−4D (i.e., 4 LC−MS platforms).
All compounds are quantified as peak heights and reported in "arbitrary units". These values are used as inputs for one-dimensional or multidimensional statistical methods (e.g., t-test, fold-change, heatmap, principal component analysis, partial least squares-discriminant analysis).
The LIMeX workflow uses over 60 different internal standards, which can be used for estimations of absolute concentrations for various metabolites detected in plasma/serum and tissues.